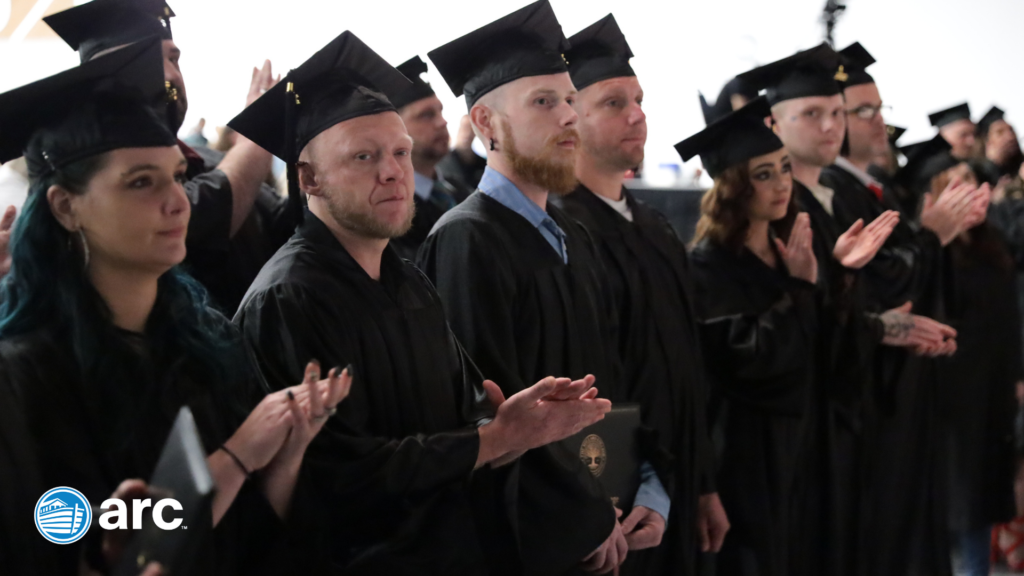 Once a month, Addiction Recovery Care staff gathers with clients to celebrate the work accomplished across all facilities.
The convocation events are designed to encourage clients on their path to recovery while also recognizing staff exceeding expectations.
May is a little different, though, as many of us joined family and friends to celebrate pre-school, high school, and college graduations earlier in the month.
In addition, ARC's convocation on May 31st celebrated current and past clients who achieved academic excellence through Millard College programs. More than 100 ARC clients walked across the stage, being awarded certifications in either Addiction and Recovery Studies, Peer Support Specialist, or Carpentry.
Class speaker Michael Osborne took time during the event to share how his life has been transformed through Addiction Recovery Care and the Millard College since joining in the spring of 2021. Watch his entire speech here.
Congratulations to all of the graduates! 
Addiction and Recovery Studies
Mark Adkins
Stephen Benningfield
Sherry Bledsoe
Gwyndolan
Carpenter
Timothy Cater
Amy Chandler
Monica Estep
Lisa Haggard
Megan Jackson
Linda Justice
Dustin Moore
Kayla McClure Storms
Jarrelll Tibbs
Carpentry
Nicholas Dye
Willis Napier
Peer Support Specialist
Joshua Amburgey
Ronald Anderson
Thomas Aparicio
Courtney Bailey
Heather Bass
Cody Braden
Garrett Brashear
James Bruce
Thomas Bruner
Rodney Buckhart
Raphel Campbell
Stephen Campbell
Stanley Coker
Stephen Conrad
Tyler Coyle
Constance Crutchfield
Savannah Daniel
David Denny
Kimberly Derrickson
Cassie Elswick
Tiffany Ewing
Toni Farley
Steven Faul
Freda Fore
Madison Frasure
Sabra Gary
John Goins
Charles Goldie
Charles Graham
Chelsea Guy
Denise Hager
Mark Hall
Shequlie Hayes
Bobby HIll
Levi Hollon
Anthony Hoy
Christopher Humphrey
Alleigha Hunter
Carrie Ingram
Joshua Jones
Phillip Jude
Sarah Kirklin
Jonathan Kyle
Nathan LaShelle
Haley Linville
Mikaela Marcum
Jaloni Marintez
Madison May
Amber McCleese
Christopher McQueen
Jamie Mcreynolds
Clyde Miller
Richard Miller
D'Andre Mitchell
Mark Moats
Haley Mooney
Jordan Moore
Sarah Moore
Kimberly Mullins
Sarah Newton
Michael Osborne
Jennifer Owens
Dustin Patterson
Morgan Pawley
Susan Pierce
Jeffrey Randles
Leslee Ray
Candace Richmond
Jennifer Rutherford
Shon Sebastian
Sean See
Phillip Shaw
Tanelle Smith
Fred Stapleton
James Stephenson
Joshua Stephenson
Audrey Strobe
Brenda Taulbee
Anthony Taylor
Donna Tucker
Paul Ulery
Vicki Weldon
Michael Welk
Amy Wilson
Rachel Woodruff
Latasha Woods
Joshua Woosley
Matthew Word
Paul Yaggie