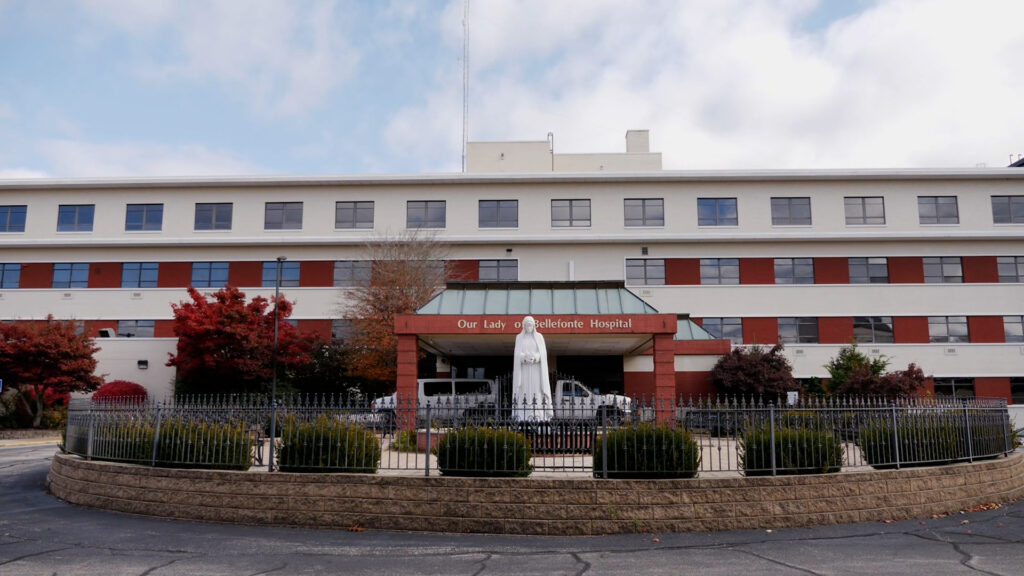 ASHLAND, Ky. – In Eastern Kentucky, community members have been hit disproportionately hard by the addiction crisis – something that has only worsened amid the pandemic and an alarming rise in fentanyl and synthetic opioids in the drug supply. Fortunately, more help and resources are on the horizon.
Addiction Recovery Care (ARC), a nationwide leader in the treatment and recovery field, announced today that its purchase agreement with Bon Secours Mercy Health for a portion of the former Our Lady of Bellefonte Hospital campus has been fully executed. This means Greenup County is one step closer to getting a new, comprehensive treatment center for individuals impacted by substance use disorder.
In December 2021, ARC shared its plans to develop the former hospital campus, which closed in 2020 after nearly 70 years of service. The new treatment center is expected to create an additional 250 local jobs, including nurses, counselors, case managers and maintenance workers, among others.
"My faith tells me that second chances are possible. This initiative is going to ensure second chances for deserving Kentuckians struggling with addiction who are ready to transform their lives and show up for themselves, their families and their communities," said Gov. Andy Beshear. "This facility will also provide good jobs in this region, including opportunities for people in recovery looking for a fresh start. Thank you to ARC and its CEO Tim Robinson for working to build a better Kentucky for all."
"For many of our fellow Kentuckians, addiction and substance use continue to be a daily challenge. ARC remains committed to helping more of these men and women reach long-term recovery and showing them the many opportunities that await them in their next chapter of life," said Tim Robinson, president and CEO of Addiction Recovery Care.
ARC currently operates more than 30 programs in 21 Kentucky counties. Their nationally recognized Crisis to Career model combines treatment with job training to prepare clients for life after ARC.
"I am pleased to see these plans for the former Our Lady of Bellefonte Hospital beginning to take shape," said Sen. Robin Webb. "As we all know, substance abuse has taken a heavy toll on individuals and families in northeastern Kentucky. Addiction Recovery Care is a reputable treatment provider that brings jobs and experience to help those struggling with addiction."
"This a great day for our community," said Rep. Danny Bentley. "This announcement brings the promise of a second chance not only for a facility that has served generations of our people, but also for those who will find recovery within its walls. It will also create a lot of good jobs."
ARC's expansion of services comes at a time when it is needed most, with overdose fatalities continuing to reach record highs. Nationwide, fentanyl overdoses have become the leading cause of death for individuals between ages 18 and 45. More than 2,300 Kentuckians lost their lives to overdoses last year.
"In the weeks and months ahead, we will continue to work with local officials and community partners who have shown great support for ARC and our mission," said Paul Andrews, market CEO for ARC. "We are confident in the positive impact this treatment center will bring, not only to Greenup County, but the entire commonwealth of Kentucky."
###
About Addiction Recovery Care
Addiction Recovery Care (ARC) operates a network of over 30 addiction treatment programs in 21 Eastern and Central Kentucky counties. The organization, headquartered in Louisa, Kentucky, offers a full continuum of care including withdrawal management, long-term residential treatment, intensive outpatient, outpatient, medically assisted treatment (MAT), vocational rehabilitation and job training. The treatment centers are holistic with CARF-accredited clinical programs, medical services directed by an addiction psychiatrist, a spiritual emphasis that includes the 12 steps and chaplaincy care and a broadening scope of vocational training opportunities for clients.
ARC has a focus on providing Treatment on Demand to ensure individuals receive treatment immediately without delay. This process includes quick enrollment into programs and transportation provided by ARC to one of our facilities. Individuals will have a clinical and medical assessment within 24 hours of arrival.
ARC accepts all Kentucky Medicaid plans (United Healthcare Community Plan of Kentucky, WellCare, Humana CareSource, Aetna Better Health for Kentucky, Passport Health Plan and Anthem) and most private insurances.
If you or a loved one is struggling with addiction, call ARC's 24/7 addiction help hotline at (606) 638-0938. To learn more about Addiction Recovery Care, visit www.arccenters.com. Hope and help are a call or click away.